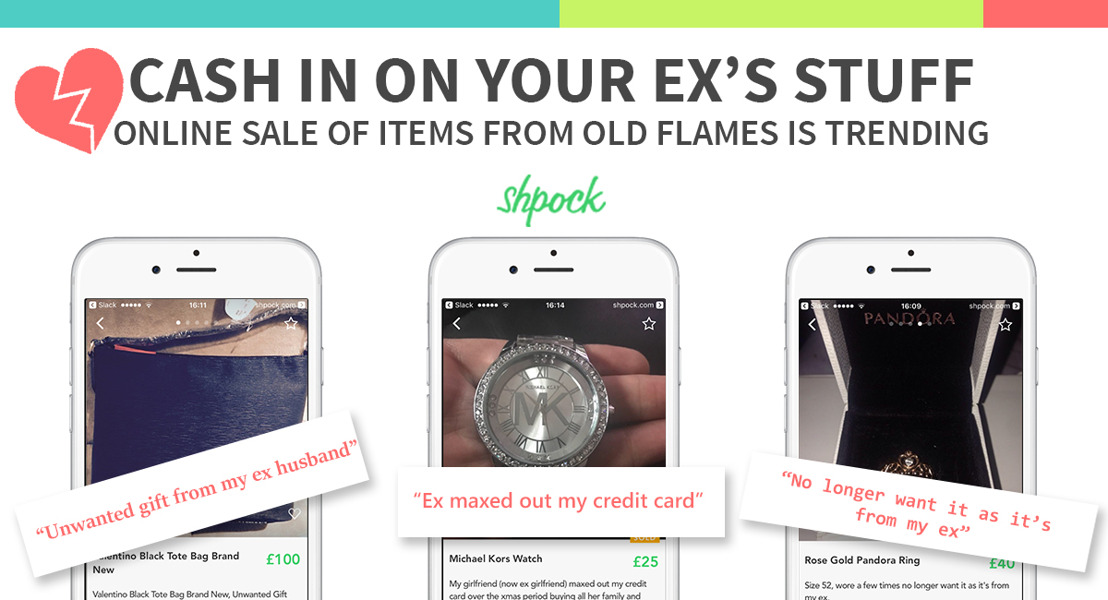 Valentine's Day: Cash in on your ex's stuff
Online sale of items from old flames is trending
Tuesday, February 7, 2017 — The festival of romantic love is celebrated on February 14th. But in a time in which the number of singles is steadily rising, not everyone is looking forward to cosy togetherness. So why not use this particular day for getting rid of once-treasured items from ex-partners in your home? Online marketplaces provide lots of opportunities for that. The potential for making a lump sum is big: According to a YouGov study[1] commissioned by Shpock, 15 % of the Brits hoard memorabilia from their exes.
When a relationship is ended, a lot of memories from this time can be found in the privacy of one's home. The boot sale app Shpock wanted to know more about this phenomenon and conducted a study. The results reveal that 15 % of all Britons still own things from their ex partners. This is especially common among youngsters: 24 % of under 35s still hoard souvenirs from old flames. It also seems like it is harder for women to let go of physical reminders from their ex-partners: 17 % still have these goods at home, compared to 13 % of the male British population.
Tokens of love end up on online marketplaces
"Items from former boyfriends or girlfriends are often tainted with negative emotions. In the Shpock community, we have noticed that online marketplaces are commonly used to get rid of these goods", says Denise Boehm, Shpock spokesperson.
This can also be observed in various captions of listed items - for example "no longer want it as it's from my ex", "was a gift from my ex partner" or "selling due to ex wife's hobby". The range of physical reminders is quite big: Be it a fish tank, an engagement ring or a designer watch – almost everything can be found in the boot sale app.
Out of sight and out of mind
It's not just sellers who are benefitting from a bad situation.
"It's also a great opportunity for bargain hunters", explains Boehm. "As sellers simply want to get rid of their items, most will settle for a much lower price than they are actually worth."
Why not use Valentine 's Day to cash in on emotional baggage? Shpock recommends an informative and truthful caption to sellers. The photo is best taken in front of a calm backdrop. The price should be realistic and the vendor should be prepared for some negotiations – just like in real life boot sales.
[1] All figures, unless otherwise stated, are from YouGov Plc. Total sample size was 2076 adults. The survey was carried out online. The figures have been weighted and are representative of all GB adults (aged 18+).