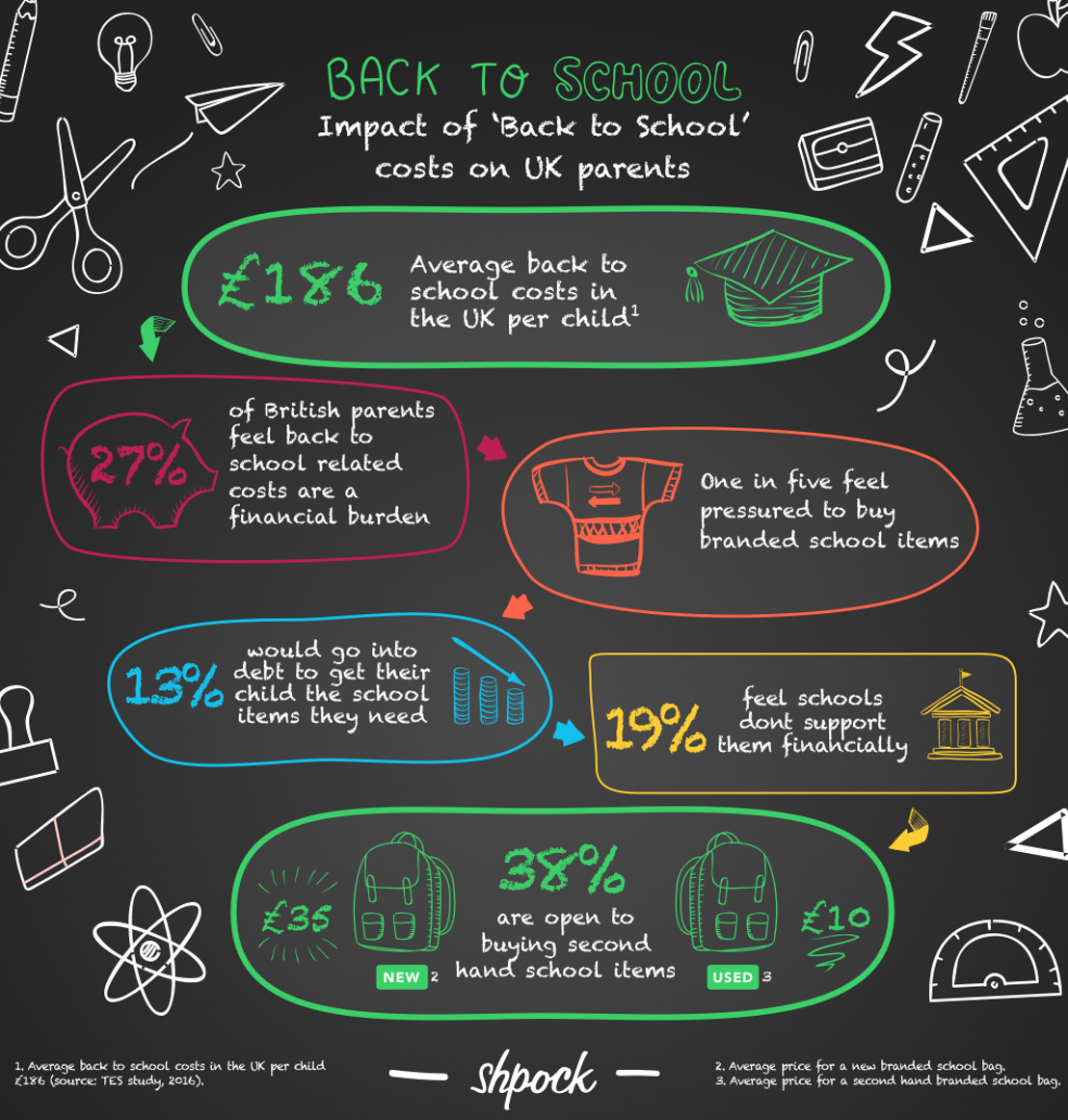 Study: 'Back to school' costs are a burden for 27% of British parents
Willing to go into debt? 13% would do so to get the necessary school supplies for their child
Monday, August 20, 2018 — With the average back to school costs for British children close to £200[1] each year, the end of summer can be a troubling financial time for parents. A representative study by Shpock, the marketplace app, in conjunction with YouGov, sheds light on how difficult this time of year is for British parents and what they are doing to counteract it.
Back to school is always an exciting time for children but for parents in the UK it can be a financial nightmare. A Shpock study reveals that 27%[2] of British parents feel that school related costs are a financial burden on their household budget. Over one in four (28%) parents are forced to set aside money for their child's school supplies ahead of the new school year.
"There is a real pressure for parents to buy new school items each year and they receive little financial support for this", explains Shpock spokesperson Conor Gannon. "One in five (19%) British parents feel their child's school does not sufficiently support them in keeping costs down. The pressure is so great that 13% admit to be willing to go into debt to get their children the school items they need".
Brands are a must have
It's not only new school items that are putting financial pressure on parents when September rolls around. Often, specific branded school supplies are a 'must have' for kids each year. 20% of parents feel pressured to buy the branded school items their child asks for.
"Every year a new branded school item is trending and seen as a 'must have' for British students. These items are often very expensive but parents don't want their child to be singled out for not having the most in fashion branded clothes or supplies", explains Shpock's spokesperson.
Open to second hand school supplies
For some parents, the high costs of going back to school are too much and are seeking more effective solutions. 38% of British parents are open to buying second hand school items if they are in good condition and one in five are happy to buy second hand if it gets their child the specific item they want. Further savings can be made once the school year is over by selling on school supplies that your child no longer needs or uses.
Shpock can save you up to 35%
We see that a lot of thrifty parents can use Shpock to get the branded items they need at cheaper prices and in great condition. The popular Smiggle schoolbag, retailing online between £25 and £35 on average, sells for 34% less on average on Shpock. Similar savings can be found on other branded bags such as Cath Kidston (-33%) and Herschl (-15%) as well as on school uniforms.
"If you have time to search and bargain skillfully, you can make real savings on your back to school spend," explains Gannon.
Expensive Back to School costs - Summarising the results
For 27% of British parents, financing the school year is a burden on their household budget
Over one in four (28%) have to set aside money for back to school costs
13% would even go into debt to ensure their child has the supplies they need
One in five (20%) feel pressured to buy branded school products
Yet, 16% state they cannot afford them as they are too expensive
19% of parents feel their child's school does not offer sufficient financial support to parents
38% of parents are open to buying used school supplies for their child
Just 8% say that second hand school items are a 'no go' for them
For 21%, used school supplies are also a way to afford branded products
Savings on branded school bags on Shpock can be as high as 35%
​[1 https://www.tes.com/news/cost-going-back-school-parents-almost-ps200-child
[2 All figures, unless otherwise stated, are from YouGov Plc. Total sample size was 2208 adults. The survey was carried out online. The figures have been weighted and are representative of all GB adults (aged 18+)