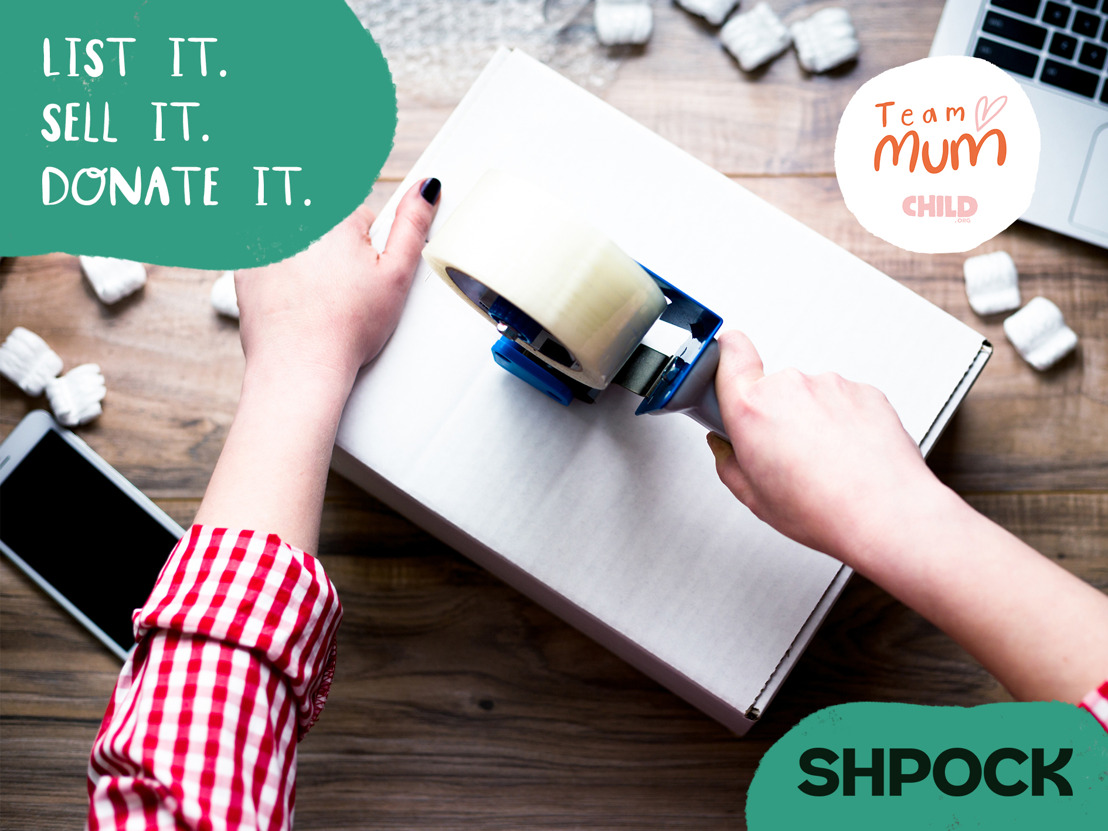 Shpock partners with charity child.org to support Kenya's most vulnerable mums
Monday, February 22, 2021 —

Shpock, the UK-wide mobile marketplace, are promoting an online charity shop to support the international charity child.org and their Team Mum campaign.

The charity Shpock shop, which can be used by both buyers and sellers on the marketplace will help to support some of Kenya's youngest and most vulnerable mums, who are left without access to vital health services and information.

In the Shpock app, buyers can visit the charity shop and purchase vital gifts such as Buy-a-Boob, Buy-a-Baby-Box, Buy-a-Session-Guide, and Text-a-Mum. These will be sent directly to Team Mum and distributed to mothers in Kenya.

There is also the option to buy downloadable 'gifts for you', including a printable kids treasure hunt to use at home - perfect for lockdown entertaining. The proceeds from the sale will go to the Team Mum campaign. The fun kit includes printable clues to be hidden round the home, a colouring-in page and a creative costume challenge.

Shpock also ran a campaign encouraging sellers to get involved by simply listing unwanted items on the marketplace and using #TeamMum. The seller is then encouraged to donate all or a portion of their earnings to the Team Mum appeal, with Shpock contributing up to £5,000 of Buyer Protection fees to help support the cause.

Iyesha Cheema-Bradshaw, Brand and Content Manager at Shpock said: 'We're delighted to be supporting child.org and such an important cause, especially during these uncertain times when charities are losing out on donations.'

"The charity shop is the perfect and easy way for both buyers and sellers to give for good this year and know you are supporting an amazing cause. We encourage everyone to get involved, knowing you are helping provide a vital service to vulnerable mums in Kenya."

Donations made to Team Mum from buyers and sellers on Shpock will enable child.org to create pregnancy support groups to arm Kenya's most vulnerable mums with health information and support they require to keep both themselves and their babies safe.

Child.org is hoping to bring hope and joy to families in Kenya, by sparking progress in global child health.

ENDS

About Shpock

Shpock is the mobile marketplace that brings millions together to find the Joy of Selling. Whether you're looking to declutter your home, boost your wallet, or reduce your impact on the environment, Shpock is here for you. With Shpock, you can turn electronics, fashion, and (almost) anything else into cash.

Shpock is one of the UK's most popular shopping apps, with regular #1 rankings in the Google Play and Apple App stores in the UK, Germany and Austria. It's easy and safe to use, plus it's always free to sell on Shpock. Zero fees. Zero hassle. Zero reason not to.

Shpock is owned by Adevinta, a global family of leading marketplace sites, including France's Leboncoin and Italy's Subito. You can find out more at shpock.com

About Child.org

Child.org is a UK registered innovative charity, dedicated to sparking progress in global child health. We do what works, in some of the toughest places in the world to grow up. We do this by discovering, designing and delivering solutions that keep children alive and healthy. The work we do generates discoveries and insights that help everyone to support the health of children more effectively.