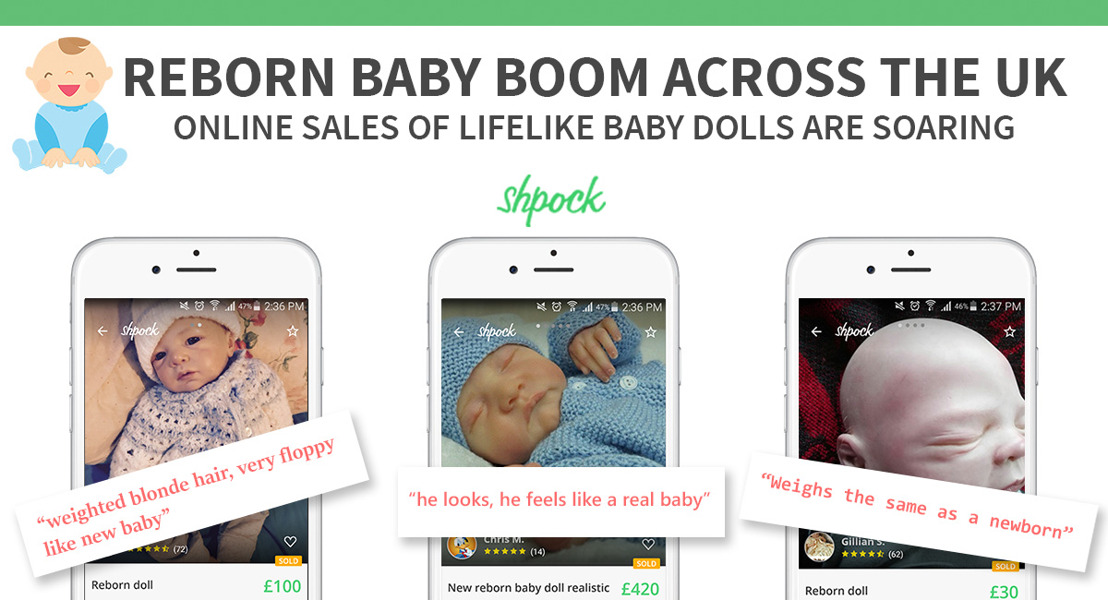 Reborn Baby Boom Across the UK
Online sales of lifelike baby dolls are soaring
Monday, July 10, 2017 — Baby dolls have always been a traditional toy for young girls. However, a new trend of lifelike 'reborn' dolls has emerged in recent months. These dolls are drawing interest from women of all ages who are willing to pay up to £1,000 for the artificial offspring. The boot sale app, Shpock, has seen a rise in sales of the realistic looking dolls in the UK and wanted to research this growth and reveal the reasons for the dolls' popularity.
Following a rise in doll sales in May and June, Shpock asked a number of its users what drew them to purchase the reborn baby dolls.
"I first saw a reborn baby many years ago and I was fascinated by how lifelike it looked. Over the years they have become even more lifelike and have even been mistaken for real babies" stated one user. Another user was also curious, buying the dolls to see if they looked as "real as they did online". She stated they are currently on display in her home and "a nice talking piece when people visit". The dolls, however, are still sometimes used as a toy for children with one Shpock user stating "I bought it because my daughter asked for it for her birthday".
Baby doll bargain
The reborn dolls sell for £64 on average on the boot sale app.
"There are great opportunities to find a real bargain", explains Conor Gannon, Shpock spokesperson. "The reborn dolls can be found on Shpock for as low as £30-40. This is a significant saving on the regular retail price of anywhere from £200 to £1,000, depending on the detail."
Extremely realistic
There are many different types of the realistic dolls available including those advertised as 'premature', 'hard-bodied' and even those fitted with a breathing device. This attention to detail can also be observed in the unique descriptions of listings, for example "weighted blonde hair very floppy like new baby", "he looks, he feels like a real baby" or "reborn toddler doll with wicker chair in excellent condition". Some of the dolls come with clothes and accessories that a real baby would need.