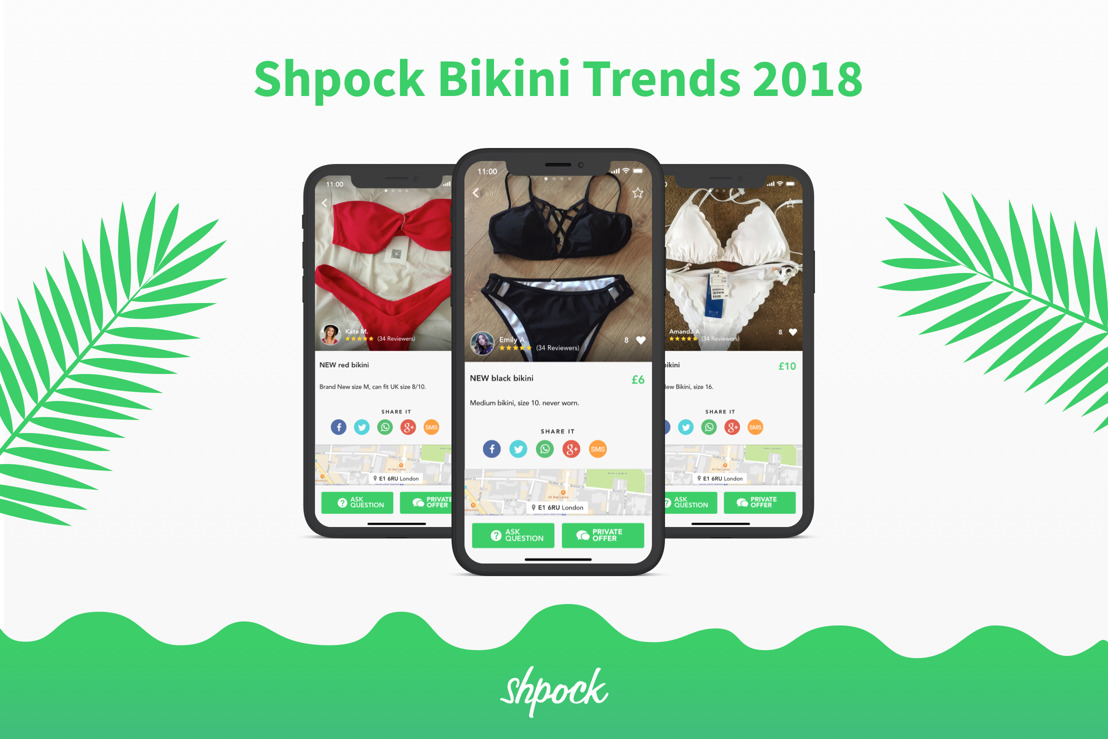 Brits go gaga for second hand bikinis!
Shpock Analysis: 71% of bikinis on sale for £10 or less
Monday, June 25, 2018 — With a sizzling summer up ahead, Shpock, the marketplace app, has analysed over 50,000 bikini[1] sales and discovered some interesting swimsuit trends; do Brits prefer new or second hand swimwear?, what is the nation's favourite bikini colour and how much can be saved when you haggle?
Would you buy second hand swimwear? The question has always created a strong debate but a new analysis by Shpock of over 50,000 bikinis listed on the app has shown that Brits do not care and instead seek out the best deal possible. Used bikinis on the marketplace app sell at the same rate as new or unworn versions, suggesting that getting the best deal possible, not whether the swimsuit has already been worn, is the key incentive.
"With the peak month of July approaching, bikini demand is reaching its highest point. Over 70% of bikinis are for sale at £10 or less meaning there are real bargains available", says Shpock Spokesperson Conor Gannon. "You can get real savings on designer brands such as Missoni, Eres and Ted Baker."
One third of bikinis are new
For those still determined to buy their swimwear unused , one third (33%) of the bikinis on Shpock are new or have never been worn – giving users the chance to get their favourite brands at a great price. Often strict no return policies by high street retailers leave little chance of getting a refund when it comes to swim suits. As a result, if the bikini doesn't fit, Shpock can be the perfect solution to finding a buyer and making both parties happy.
"When reading the description, one can see that many bikinis are brand new or even have the price tag still attached. The average listing price of a bikini on Shpock is £9, with the average sale price just £6, making these models much cheaper than what can be found from regular retailers" explains Gannon.
Fashionable colours and trends for 2018
Classic black remains the nation's favourite colour accounting for 24% of the bikinis for sale, followed by red (21%) and white (16%). Bikinis are being offered in all kinds of variations and sizes: from triangle, high waist or crochet to chic one pieces. Whether spotted, striped or patterned, there's something for every taste." explains Gannon.
Haggling can earn you 30% discount
In the UK, many bikini-hunters are looking to find the cheapest bargain and Shpock is the perfect platform for this. On average, bikinis sell for over 30% less than the original listing price showing that some haggling goes a long way to getting the deal you want.
1] All figures, unless otherwise stated, are from Shpock. Total sample size was 50,000 bikinis and bathing suits traded between January 1 2017 and June 15 2018.