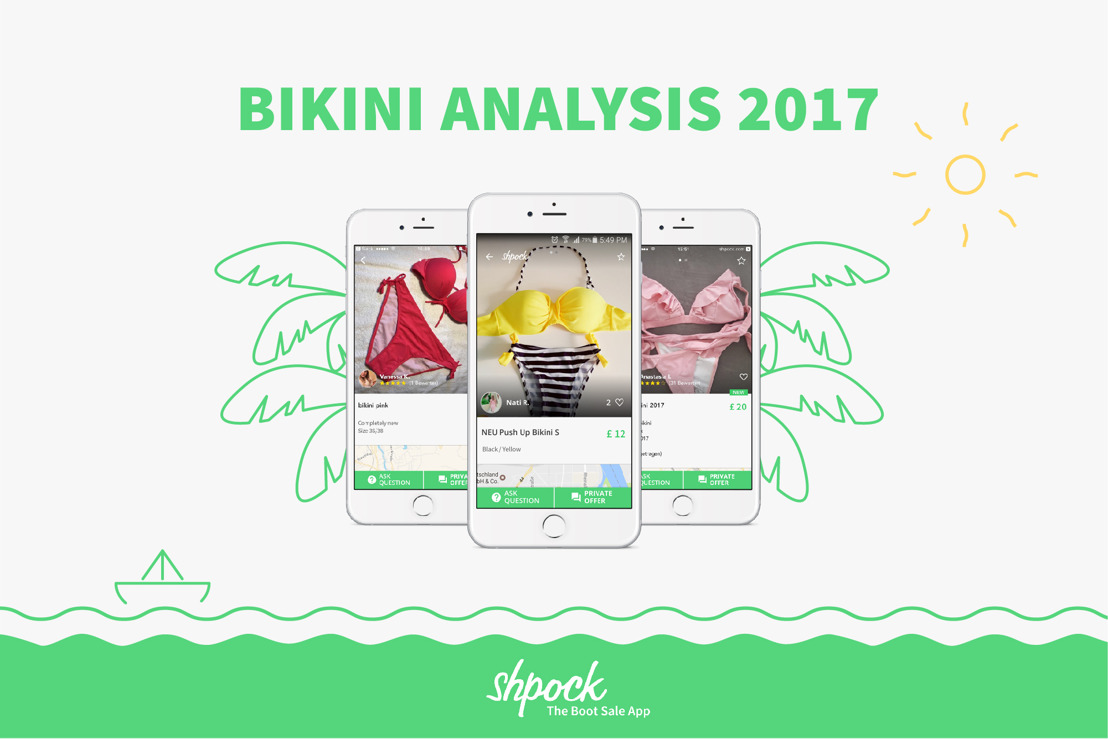 Bikini Bargain! Get the perfect beach outfit for under £10
Shpock Analysis: UK ladies buy their bikinis in June and July especially
Wednesday, June 14, 2017 — Just as summer season is approaching Shpock has analysed over 30,000 bikinis. The study shows, when and in which region you can get the best offers and which colours and trends are the most popular this year.
Days are getting hotter, dresses shorter and bikini sales on Shpock are booming. An Analysis of over 30,000 [1] bathing suits on the boot sale app shows a huge rise in listings and buyers of summer swimwear, especially in June and July.
"Almost half of the bikinis are being listed in the summer months between May and August. The number of listings is just as high as the demand: "45% of the bathing suits are being sold in June, July and August" says Shpock Spokesperson Conor Gannon. One should be fast if they want the perfect bikini, though: "More than a third of the listed swimwear is sold within a week."
In just a few days over 30% percent of bikinis have found a new owner in London, followed by 29% in the West Midlands and South Yorkshire with 27%.
½ of the bikinis on sale are new
Almost 46% of the bikinis on sale have never been worn – strict no return policies by retailers leave little chance of getting a refund when it comes to swim suits. As a result, if the bikini doesn't fit, Shpock can be the perfect solution to finding a buyer and making both parties happy.
"When reading the description, one can see that many bikinis have never been worn or even have the price tag still attached. The average listing price of a bikini on Shpock is £13, with the average sale price just £10, making these models much cheaper than what can be found on the high street."
There are branded bikinis amongst the listings, from Victoria's Secret and Armani to H&M and Tommy Hilfiger.
Fashionable colours and trends 2017
Classic black remains the nation's favourite colour accounting for 23% of the bikinis for sale, followed by white (16%) and pink (15%). Bikinis are being offered in all kinds of variations and sizes:
"There are many different styles online such as Triangle, High Waist or Crochet Bikinis. One can find many different patterns from striped or dotted to neon coloured or floral. There is a perfect style for everyone"
Great bargaining opportunities in London
In the UK many bikini-hunters are looking to find the cheapest bargain and Shpock is the perfect platform for this. On average, girls in London can get their bikinis 39% cheaper than the listed price. However, Leicestershire is the best county to haggle in with bikinis selling for on average 40% cheaper than the initial listing price.
[1] All figures, unless otherwise stated, are from Shpock. Total sample size was 32,000 bikinis and bathing suits traded between January 1 2016 and May 15 2017.